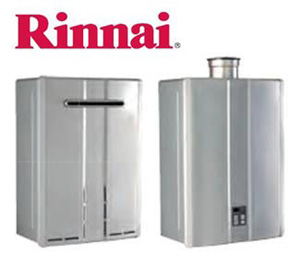 ALL-GAS features Rinnai tankless hot water systems, the best in the business. Rinnai's quality, reliability and performance have made them the #1 name in gas appliances world wide. Combined with ALL-GAS's one stop service you are getting the best products and the best service possible.
Why Tankless?
Produce more hot water using less energy than the most efficient storage tank style heater. Tankless is the environmentally responsible water heating solution. It saves energy, saves space and saves you money.
Space Savings
Traditional tank water heaters can take up to 16 square feet of valuable floor space. However, Rinnai tankless water heaters are about the size of a carry-on suitcase and can be installed on virtually any wall inside or outside of your home.
Sustainable and "Green"

Rinnai has earned ENERGY STAR approval by meeting the strict energy efficiency guidelines set by the U.S. Environmental Protection Agency and the Department of Energy, by using less energy and preventing greenhouse gas emissions.
Clean, Fresh Water
Traditional tank-style water heaters can build up rust and scale inside their tank, where the hot water you use for bathing and drinking is stored. With Rinnai tankless water heaters you will always experience fresh, clean water that is heated on demand, as it passes through the unit.